The Baileys Women's Prize for fiction has been awarded to Irish author Lisa McInerney for her novel "The Glorious Heresies", described as a funny and ferocious novel about struggling characters in financial-crisis Ireland.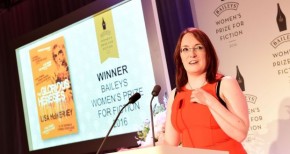 The 35-year old beat five other finalists to take home the $43,000 prize at a ceremony last night in London.
McInerney first gained attention with a blog about working-class Irish life written under the pen-name "Sweary Lady".
The winning novel is set inside the Cork underworld with characters including a gangster, a sex worker feigning religious conversion, an accidental murderer and a 15-year-old drug dealer.
The Baily's award is open to female English-language writers from around the world.  There were no Canadian authors up for consideration.